Christmas is the start of summer in Australia and it's a great season to go outside, spend time with the family at the park, stroll along the sidewalk, or have a barbecue session in your backyard with the people special to you. Of course, you don't leave out the kids from these simple but fun summer escapades!
Here's another great thing about summer! It's the best season to let your children learn how to drive… and we don't mean using the family car (you certainly don't want to do that)! There's definitely a safer and child-friendlier way for the kids to learn the basics of driving in your backyard, at the park, or even inside your spacious house. Believe us when we say they are going to have hours of driving fun once they ride their own ride-on vehicle!
Mr Toys brings you a selection of powered ride-on toys that will let your little one enjoy the experience of driving their own car… or motorcycle. Teach your child the basics of driving – how to turn, manoeuvre, avoid obstacles, follow traffic rules, and safely control their vehicle.
So don't let the summer season fade away without letting your little rider drive an awesome vehicle from Mr Toys. Scroll down and have a look at our top bestsellers!
Sports Utility Vehicle Ride-Ons
The Land Rover Defender is one of the most iconic and capable 4x4 SUVs (sports utility vehicles) on the planet! Now, kids to can drive and ride their very own Land Rover Defender with this 12-volt red ride-on toy.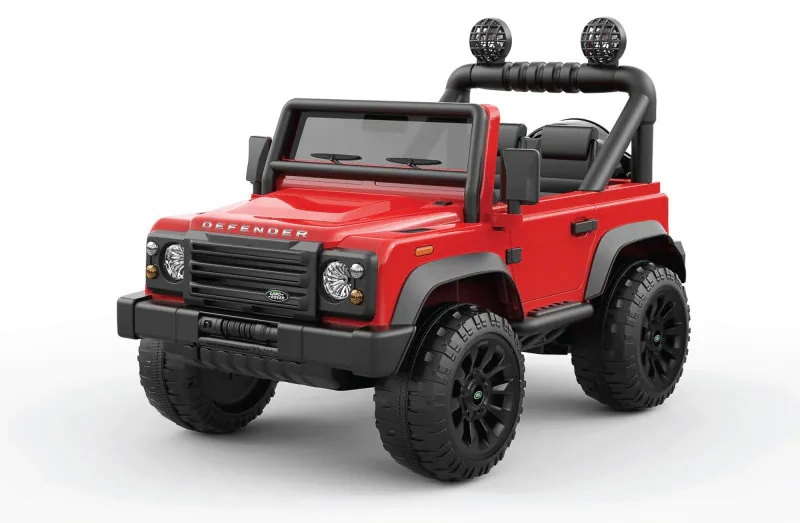 • Land Rover Defender 12V Green
For those who love the colour of vegetation, there's a Land Rover Defender model for you – introducing the Land Rover Defender 12V Green! Make no mistake, this SUV ride-on is as powerful in appearance as any Land Rover Defender – only that it's for kids.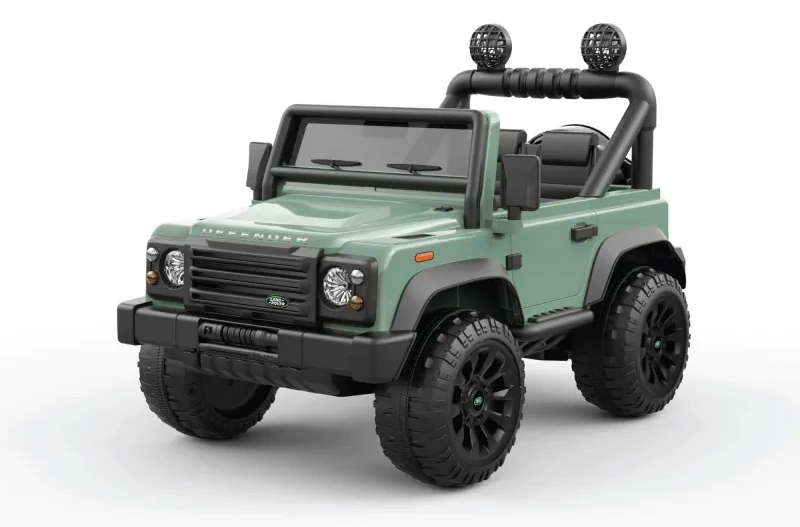 Red is the colour of action-packed adventure! Powered by a 12V/4.5aH battery, the G-Unit Volta 5003 is a ride-on vehicle with MP3 connection, remote control, dual gearbox, and LED lights. It also has an anti-shock acceleration feature, and is made of quality plastic material.
• Go Skitz Coopa Electric Ride-On Black
Go Skitz introduces this sporty electric ride-on that gives the feel of a coupe car ride! The Coopa Electric Ride-On can seat 2 kids and features a soft start function, rear wheel suspension, and one-touch assembled wheel. It also comes with lights, sounds, and MP3 sockets so riders can play their own favourite music. Dashboard has volume control and battery power display. Vehicle runs on 2x20W motor with 12V/4.5aH battery, and can be controlled with its 2.4G remote control.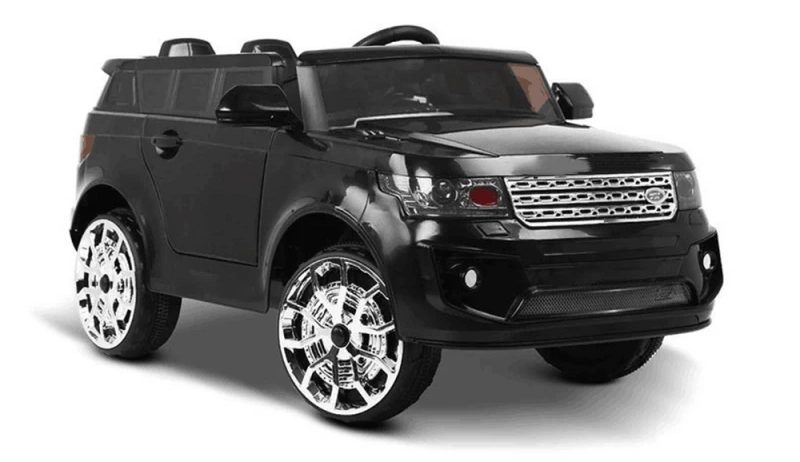 Muscle Car and Motorbike Ride-Ons
• Chevrolet Camaro 2SS 12V Pink
It's the perfect Chevy for a realistic spin your kids will enjoy! The Chevrolet Camaro 12V Ride-On drops fresh with its sleek design and realistic features. It can hold 2 passengers and is powered by a 35Wx2 motor with 12V/7aH battery. It has 4-wheel suspension, speed options, forward and reverse functions, and power display. This Chevy Camaro ride is made complete with its music player with Bluetooth, plus music sound effects to emulate a real, cool car ride.
• Chevrolet Camaro 2SS 12V Yellow
The sun is as powerful as it can be during summer – especially when it sheds its colour on the Camaro! It's the same Chevrolet Camaro 2SS 12V Ride-On but in yellow. Now, kids can roll into your backyard head to head with their pink and yellow Chevrolet Camaros!
Powered by re-chargeable dry batteries, this Honda Forza Bike for kids can operate continuously for approximately 40 minutes. Complete with charming front and rear lights, as well as a forward and backward button, there's no doubt your little rider can count on this bike for a safe yet fun riding adventure.
Dino and Dragon Inspired Ride-Ons
The Volta UTV Dragon has an attractive, futuristic design. As the name suggests, the appearance of this UTV looks really dashing like a green dragon! It's powered by a 12-volt battery, has anti-shock acceleration, and other exciting features that support the riders' safety and comfort. Let your kids ride to a thrilling adventure with this dragon on 4 wheels!
Kids will have a blast riding the Yamaha Raptor ATV ride-on! Boasting a fun, realistic design, this ride-on toy will make your little one feel like they're riding the trails – just like a grownup. With access to 2 speeds and reverse capability, your young driver can move forward and backward – just like a real ATV. Designed to go up to 5mph, the solid construction and steering wheel column makes this Yamaha Raptor extra durable. It features MotionTrendz wheels for extra traction and firm grip on the road. With an assembly time of just 20 minutes, this 12-volt battery-powered ride-on makes a terrific Christmas gift for any young rider!
• Yamaha 12V Raptor ATV White-Pink
Designed for long-lasting play times, this 12-volt battery-powered ride-on provides 30 to 45 minutes of fun after a single overnight charge. With a standard speed of 4 kilometres per hour plus a maximum speed of 8 kilometres per hour, your child can enjoy an exhilarating ride around the block. The sturdy MotionTrendz tyre design plays well with all of the surfaces around your home. Realistic Yamaha ATV design, sounds, and race graphics let your child feel like they're riding the trails!
Superhero Inspired Ride-Ons
This Spider-Man 6V Mini Quad is the ultimate ride-on for your little Spider Hero! It's an electric quad that comes with a 6V battery and can travel at a safe speed of 2.5 kilometres per hour. It will bring out super smiles and tons of cruising fun for kids who love to ride and become like the friendly neighbourhood Spider-Man.
• Batmobile DC Comics Justice League 6V
Your little one can feel like a real-life superhero when they ride the Batman Justice League Batmobile 6-Volt Battery-Powered Ride-On. This vehicle features both forward and reverse settings with a maximum speed of 4km/h that will have your child rolling through the streets of Gotham in no time! Light up blasters are activated from the steering wheel, as well as 4 unique sounds which are sure to keep your little one entertained for hours. This Batmobile includes a re-chargeable battery with a total run time of 2 hours for a full-throttle, crime fighting experience. It also includes a convenient, plug-in wall charger that provides a charging time of 14 hours to get your child back behind the wheel.
Can't get enough of these top 12 powered ride-ons? Click here to see more of our electric ride-on toy range!
Important Note: To ensure the safety of your children, please make sure a trusted ADULT is always supervising them whenever they're riding their powered ride-on toy.